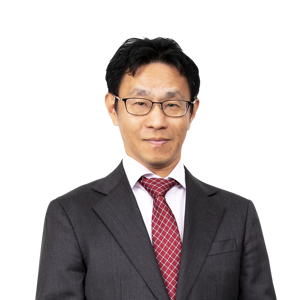 Partner Kazuhiro Kobayashi
Osaka Bar Association, Japan Federation of Bar Associations (1994)
New York (2001)


Location : Osaka Office
Professional Summary
Mr. Kobayashi has wide-ranging experience in corporate, M&A, compliance, intellectual property, antitrust, international transactions, product liability and dispute resolution. Mr. Kobayashi has handled MBOs and corporate reorganizations of listed companies. He has represented directors in shareholder's derivative actions and has won a case. As defense attorney for pharmaceutical companies, he has handled many cases of alleged contaminated medicines.
Mr. Kobayashi has assisted Japanese listed company in receiving subscription of equities and bonds from foreign companies. He has filed a petition for commencement of rehabilitation proceedings, which is similar to Chapter 11 proceedings, for Japanese listed company having a branch in Singapore and subsidiaries in Malaysia.
Mr. Kobayashi has handled establishing foreign capital's entities and advising on their operations in Japan. He has also handled dispute resolutions in which foreign companies are involved.
Education & Professional Experience
2000-2002
Morgan, Lewis & Bockius LLP (New York)
2000
University of Michigan Law School (LL.M.)
1994-2011
Kikkawa Law Offices
1991-1992
Legal Department, Toshiba Corporation
1991
Kyoto University (LL.B.)
Activities
- Director of the Japan Association of Arbitrators (JAA)(2020-)
- Mediator of the Japan International Mediation Center in Kyoto (JIMC-Kyoto)(2018-)
- Specialist Mediator of Singapore International Mediation Centre (2018-)
- International Arbitrator of the Korean Commercial Arbitration Board (2018-)
- Inter-Pacific Bar Association At-Large Council (2018-)
- Adjunct Instructor at Kansai University School of Law (2012-), International Contract Practice
- Part-time Instructor at Osaka Prefecture University (2011-), International Legal Strategy
- Secretary General of Kansai Branch of Japan Association of Arbitrators (2010-2020)
- Arbitrator of The Japan Commercial Arbitration Association (2010-)
- Chairperson of International Committee of Osaka Bar Association (2010-2012)
- Adjunct Instructor at Kansai University School of Law (2009), Economic Law (Antimonopoly Law) Seminar
- Vice-chairperson of International Committee of Osaka Bar Association (2008-2010)
- Director of Licensing Executives Society Japan (2007-2017)
Languages
Japanese and English