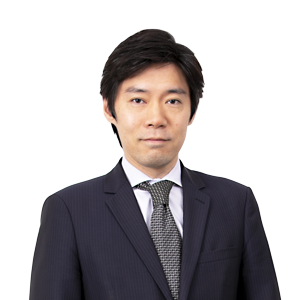 Partner Kagenori Sako
Osaka Bar Association, Japan Federation of Bar Associations (2002)
New York (2010)
Certified Fraud Examiner (2016)

Location : Osaka Office and Nagoya Office
Professional Summary
Kagenori Sako is a partner in Oh-Ebashi LPC & Partners. His practice areas comprise a range of antitrust / competition, dispute resolution, compliance, IP and corporate law.
His antitrust / competition practice covers all areas of antitrust and competition law, including cartel defense, private antitrust litigation and merger clearance. He regularly represents clients in administrative and criminal antitrust investigations by the JFTC, and has served as lead coordinating counsel for clients under investigation in multiple jurisdictions, including the United States, the European Union, Canada, China, Korea, India, Singapore and Brazil. In addition to cartel investigation, he has handled a variety of unfair trade practices under the Japanese antitrust law including abuse of a superior bargaining position.
In addition to his work in the antitrust area, Kagenori has represented clients in various commercial dispute matters, including complex commercial litigation and alternative dispute resolution procedures. He also has extensive experience in conducting complex investigations in a variety of industries, and in advising corporate boards in connection with investigations.

Education & Professional Experience
2009 - 2010
Weil, Gotshal & Manges LLP (Silicon Valley office)
2009
UC Berkeley School of Law (LL.M.)
2001
Kyoto University (LL.B.)
Activities
2017 - Present Part-time Lecturer, Kyoto University Law School (Seminar on Competition Law Cases)
2016 - Present Part-time Lecturer, Kobe University Graduate School of Law
2016 - Present Part-time Lecturer, Kyoto University
The Japan Association of Economic Law
Kansai Study Group on Competition Law
Antitrust Law Practice Study Group, Osaka Bar Association
Antitrust Law Section, American Bar Association
Academy For International Business Transactions
Awards
-Awarded as Future Leaders 2018 - Competition by Who's Who Legal
Languages
Japanese and English