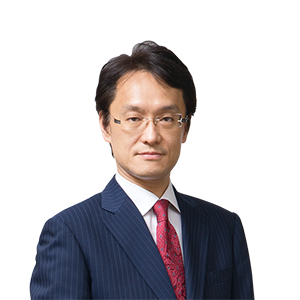 Partner Norihiro Sekiguchi
Tokyo Bar Association; Japan Federation of Bar Associations (1997)
American Bar Association (2004)

Location : Tokyo Office
Professional Summary
Norihiro Sekiguchi is a partner at Oh-Ebashi LPC & Partners, with a broad experience in the area of M&A. He has handled domestic and cross-border M&As representing non-Japanese acquirers in various jurisdictions. The types of transactions in which he has been involved cover tender offers, mergers, stock swaps, asset or business acquisitions, management buyouts and various types of private equity investments. He has extensive experiences in corporate governance and disputes including corporate lawsuits, exercising shareholders rights, and disputes regarding corporate control. He is also familiar with securities regulations and corporate compliance. He has experiences in forensic investigation of listed companies as a chairman or leading investigator of independent committees. He has advised on litigations and dispute resolution matters regarding corporate or labor law issues, M&As, and commercial transactions for both domestic and international cases.
Mr. Sekiguchi was formerly a partner at the Tokyo office of Baker & McKenzie from 2006 to 2014. He worked at Baker & McKenzie's Chicago office from 2003 to 2004. He has been recognized as one of the leading individuals in the field of corporate / M&A in Japan by several international rankings for the legal industry including Chambers & Partners, The Legal 500 and Best Lawyers, and received the ALB Japan Law Awards. He has authored various publications, including the best-selling TOB Handbook and has given lectures on a variety of topics related to corporate and securities law.
Major Cases Handled
- Represented Seagate Technology Holdings plc in relation to its acquisition of Toshiba Memory Corporation.
- Advised CTBC Financial Holding Company Ltd. in relation to its acquisition of Tokyo Star Bank (this matter was the first-ever acquisition of a Japanese local commercial bank by a non-Japanese commercial bank).
- Advised SPARX Capital Partners in relation to the exercise of its shareholder's rights against PENTAX Corporation with respect to PENTAX's decision regarding a potential merger with HOYA.
- Acted as Chairman of the outside investigation committee of OUTSOURCING Inc. in relation to accounting scandals.
- Acted as Member of the Third-party committee of Japan Display Inc in relation to accounting scandals.
- Acted as Secretary General of the Executive Liability Investigation Committee of TOSHIBA, to lead and organize all investigations, in relation to accounting scandals.
Education & Professional Experience
2014-present
Oh-Ebashi LPC & Partners, Partner
2006-2014
Baker & McKenzie (Tokyo), Partner
2004-2005
Baker & McKenzie (Tokyo), Senior Associate
2003-2004
Baker & McKenzie LLP (Chicago), Associate
2003
University of Virginia School of Law (LL.M.)
1999-2003
Baker & McKenzie (Tokyo), Associate
1997-1999
Inami, Ohta & Shibasaki, Associate
1994
Waseda University (LL.B.)
Activities
2020-2022
Member of the disciplinary enforcement committee of the Japan Federation of Bar Associations
2019-2021
Examiner for the Bar Examinations (Corporate Law)
2016-2020
Acted as member of the Japan Federation of Bar Associations supporting small and medium enterprises to expand their businesses overseas
2014-2020
Member of the Small and Medium Enterprise Legal Assistance Center, the Tokyo Bar Association
2011-present
Member of the International Committee, the Tokyo Bar Association
2010-2011
Representative of the Tokyo Bar Association
Awards
Highly acclaimed in the Best Lawyers in Japan 2023 in the following practice area:
 ・Corporate and M&A Law
 ・Corporate Governance and Compliance Practice
 ・International Business Transactions
 ・Private Equity, Private Funds and Venture Capital Law
Highly acclaimed in Chambers Global 2022 in the following practice area:
 ・Corporate/M&A: Domestic
Selected as "Leading Individuals" in The Legal 500 Asia Pacific 2022 in the following practice area:
 ・Corporate and M&A
Highly acclaimed in Chambers Asia Pacific 2022 in the following practice area:
 ・Corporate/M&A: Domestic
Highly acclaimed in Chambers Global 2021 in the following practice area:
 ・Corporate/M&A: Domestic
Highly acclaimed in Chambers Asia Pacific 2021 in the following practice area:
 ・Corporate/M&A: Domestic
Highly acclaimed in the Best Lawyers in Japan 2022 in the following practice area:
 ・Corporate and M&A Law
 ・Private Equity, Private Funds and Venture Capital Law
Highly acclaimed in the Best Lawyers in Japan 2021 in the following practice area:
 ・Private Equity, Private Funds and Venture Capital Law
Won the "Technology, Media and Telecommunications Deal of the Year" awards from ALB Japan Law Awards 2010
Languages
Japanese and English