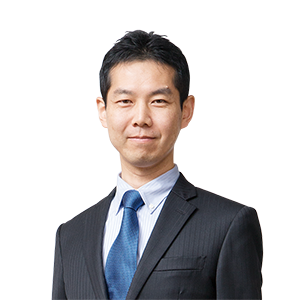 Partner Motoi Shimadera
Daiichi Tokyo Bar Association, Japan Federation of Bar Associations (2000)
The Japanese Society of Insurance Science
New York State Bar Association (2006)

Location : Tokyo Office
Professional Summary
Mr. Motoi Shimadera has wide range of corporate legal practices, and has many clients in major companies. Especially, he has high expertise on Insurance area to deliver legal advices, and consulting for his clients like major life insurance companies, non-life insurance companies, and mutual aid associations. He has experienced for two years to work at Counselor's office of Civil Affairs Bureau in Ministry of Justice as a fixed term government officer. Then he was a member of legislation of Insurance Act at that time which can be his superior expertise in a variety of Insurance legal matters including Insurance claim lawsuit, and the alliance between Insurance companies.
Second, he has much experienced restructuring cases; one of the succeeded ones is the cross-bordering restructuring of major semiconductor company recognized as a notable case in Japan. He was a lead attorney of this case to make it succeeded.
Third, he is highly talented in not only above practice areas, but also litigation, and dispute resolution around every industry. In fact, he got many innovative winning cases of international litigation, e-commerce, insurance claim, and some cases related to insolvency law. Therefore, he has got reliable relationship between many clients for a long period.
Finally, He is also active in the academic area; publishing many articles, and books, and presenting his reserch works at academic conferences. He was awarded international insolvency institute Takagi award (The Foundation for Research in Civil Dispute Resolution) for the article titled "Revalidate DIP corporate reorganization."

Education & Professional Experience
2006 - 2008
The Ministry of Justice, Japan, as a fixed-term officer of the Office of the Deputy Director General, Civil Affairs Bureau for the drafting of the Insurance Act
2005 - 2006
Pillsbury Winthrop Shaw Pittman LLP, Los Angeles
2005
Boalt Hall Law School at UC Berkeley (LL.M.)
1998
Kyoto University (LL.B.)
Activities
2011 - 2019
Lecturer, Meiji University, Graduate School of Law
2011 - 2017
Lecturer, University of Tsukuba, Graduate School of Business Sciences
Member of The Japanese Society of Insurance Science
Languages
Japanese and English