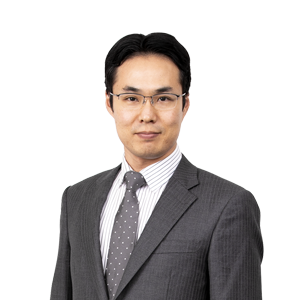 Partner Hajime Taniuchi
Osaka Bar Association, Japan Federation of Bar Associations (2004)
New York (2011)


Location : Osaka Office
Professional Summary
Hajime Taniuchi is a partner in the Corporate Law & M&A Practice Group and is a core member of the firm's Asia/Emerging Countries Desk. He also belongs to the firm's International Dispute Resolution Group and Finance Group handling various cases within such groups. Hajime has been leading numerous domestic M&A deals both for private companies and listed companies and has handled dozens of cross-border M&As representing Japanese companies in various industries. As a result of his abundant experience, Hajime counsel clients in all aspects of corporate law as well as other daily legal issues.
Hajime was seconded to work in the U.S. as well as in India as visiting attorney. In the U.S., he belonged to the Antitrust Group where he supported Japanese clients facing international cartel investigations. In India, he supported Japanese clients investing in India. Through such experience, he is well acquainted in advising Japanese clients dealing international legal issues in collaboration with foreign law firms.
Hajime has lived in the U.S. for more than ten years and is fluent in the English language. He is well equipped in supporting both foreign clients interested in doing business in Japan as well as Japanese clients interested in doing business overseas.
Education & Professional Experience
Jan. 2013 – current
Partner, Oh-Ebashi LPC & Partners
Apr. 2012 - May. 2012
Visiting Attorney, J. Sagar Associates (Gurgaon, India)
Oct. 2011 – Apr. 2012
Visiting Attorney, Fox Mandal, Solicitors & Advocates (Bangalore, India)
Sep. 2010 – Sep. 2011
Visiting Attorney, Dewey & LeBoeuf LLP (New York)
2010
University of Chicago Law School (LL.M.)
Oct. 2004 – Dec. 2012
Associate, Oh-Ebashi LPC & Partners
2002
Doshisha University (LL.B.)
Languages
Japanese and English